"Joondalup Boat Shack" is a partnership between my beautiful wife Alison and myself. It started as a small yard formally "Joondalup Car Sales" and we have formed a small marine business designed around buying and selling, consignment and servicing of trailer boats. We sell boats for clients who either don't have the time or patience to sell themselves. A lot of our customers will also agree even though they have owned boats they often still lack the ability to display and demonstrate there craft properly to potential buyers, so this is where we come in to the equation.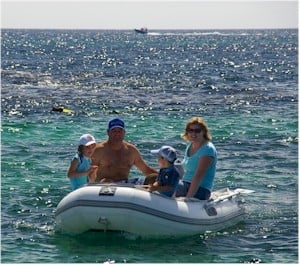 On the buying side you get to deal with pleasant honest people, who are more interested in your long term boating pleasure, than their own short term gain. "Once you become a JBS customer you tend to stay one for life and that's the way we like it" It is my own personal belief long-term business and sustained customer relations will always make any business prosper and help in getting the good name of any company supplying great service out to the community.
Okay. I know this all sounds a bit much, but drop in and give us a go!
My background in the Industry is fairly simple:
I joined Captain Blackbeards (who became Mariners World) and worked out of their North Perth Yard for about three years. I left there and started at Fremantle Yamaha, where I became the Sales Manager, in a very short period of time. After nearly eight years travelling from Mindarie (where I live) to South Fremantle I left and accepted an offer to become the Sales Manager of Access Boating in Wangarra, my final appointment until two and half years later.
Then here I am now, out on my own, at "Joondalup Boat Shack", 18 Winton Rd, Joondalup WA 6027, (08) 9300 9970.
My love of all things marine drove me to the industry and this love has been passed onto my Wife and partner. Alison is responsible for all accounting and book keeping, having an accounts back ground, as well as managing our two children: Ashton and Alexis, who you are bound to bump into at the Shack at some point.
I am a registered HIN Provider and an "Authorised Licensing Officer" for DPI. I have accounts with most major wholesalers and can order just about any part you require. Also my love of light sport fishing has extended to include "Joondalup Boat Shack" as one of WA's newest Minn Kota dealers. With a very strong background in electric motors we won't be beaten on price or service.
Finally, I would like to thank all my old customers who have followed me, over the years, in my journey, because a lot of these people have been instrumental in my successes to date. Thank you very much.
Rodney Pallister